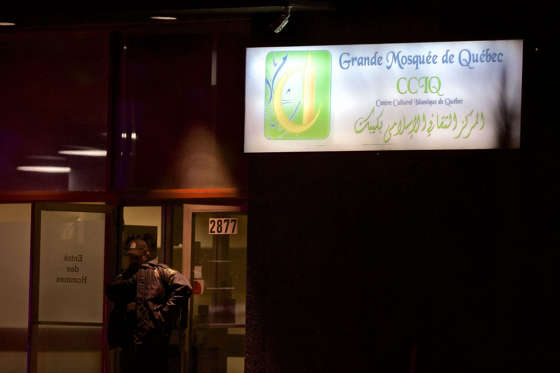 At least six people have been reportedly killed and eight injured in a shooting that took place inside a mosque at the Quebec Islamic Cultural Center in Quebec City, Canada, on Jan. 29, 2017. (Pictured) A police officer stands guard at the center. 
Police were investigating a single suspect in a shooting at a Quebec City mosque that killed six people, with a second person who was arrested now considered a witness, authorities said on Monday.
The sole suspect in the attack on Sunday evening prayers was Alexandre Bissonnette, a French-Canadian university student, according to a source familiar with the matter.
The man now considered a witness was of Moroccan descent although his nationality was not immediately known, the source said. He was named by media as Mohamed Khadir or Mohammed Belkhadir by media.
Police declined to give details of those arrested or possible motives for the shooting at the mosque, the Centre Culturel Islamique de Québec.