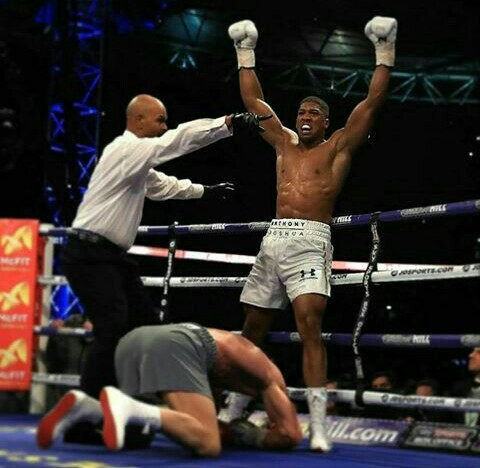 Anthony Joshua added the WBA belt to his IBF title with an 11th-round stoppage of Wladimir Klitschko in a thrilling fight on Saturday.
Joshua was knocked down in round six but twice had Klitschko on the canvas in the penultimate round before the referee stepped in.
Not only did the 27-year-old retain the IBF World Heavyweight Championship, Joshua remains undefeated as a professional, with 19 victories.
The bout which made history as one of the biggest fight nights in boxing history drew a record post-war British boxing crowd of 90,000 at Wembley.
Any talk of Anthony Joshua versus Tyson Fury may have to be shelved for a bit, as Klitschko has a rematch clause to fight Joshua again.
However, the Ukrainian in his post match comment noted that he needed to take some time to "figure out" what happened.
"The best man won tonight and it's a massive event for boxing.
Two gentlemen fought each other. Anthony was better today. It's really sad I didn't make it tonight.
I was planning to do it, it didn't work. But all the respect to Anthony, congratulations," he said.
Klitschko is 41 and has now lost his last two fights, albeit over a space of 16 months.
On his part, Joshua said:
What can I say? 19-0, three and a half years in the game. As I said, I'm not perfect but I'm trying and if you don't take part you're going to fail.
As boxing states, you leave your ego at the door and you respect your opponent. So a massive shout out to Wladimir Klitschko.
He also used the opportunity to request for a fight against Tyson Fury, who also beat Klitschko — on points in November 2015 — but has not fought since.
"Tyson Fury, where you at baby?" asks Joshua.
"Come on, is that what you want to see? I enjoy fighting. I love fighting. Tyson Fury I know he has been talking a lot and wants to come back and compete."
"I want to give 90,000 people another chance to come back and watch some boxing here," shouts Joshua who is now a three-belt champion as he also holds the IBO title.