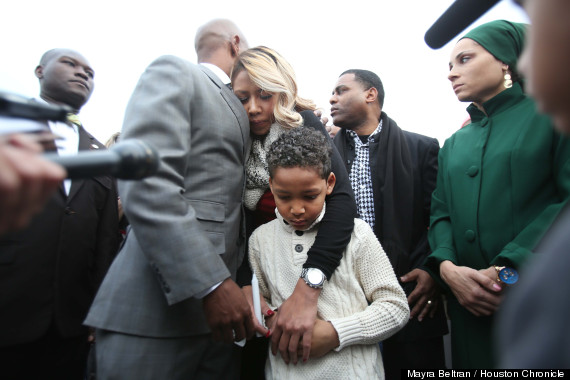 Activist Deric Muhammad embraces Renae Tran as she holds on to son Jordan Baker, Jr. at the candlelight vigil for Jordan Baker in the parking lot where he was shot by police
Sebastian Murdock | Huff
A Texas grand jury has officially cleared an officer of any wrongdoing after he fatally shot an unarmed man back in January.
Officer Juventino Castro will face no charges in the deadly shooting of 26-year-old Jordan Baker, Chron News reports.
Baker was shot by Castro in an alley behind a Houston strip mall. Castro was off duty at the time, and Baker was unarmed. Castro said he believed Baker matched the description of a robbery suspect who had targeted the strip mall in the past, ABC13 reported at the time.
In a police report filed after the killing, Castro said there was a scuffle and a foot chase into the alley after the officer asked to see Baker's ID. Castro told investigators he shot Baker after the man allegedly charged the cop.
Days before the decision not to indict Castro, family members gathered at the courthouse to plead that justice be served, My Fox Houston reported.
"You have an opportunity to get this right," chanted many in attendance on Sunday.
The decision comes at a tense time between police and civilians. The non-indictments of the officers responsible for the deaths of Mike Brown and Eric Garner have started social movements, including Black Lives Matter, to address the perceived racial bias among police and sparking demonstrations across the country.
It's unclear at this time if Castro will stay on the force or face disciplinary action.
"He did everything right," Janet Baker, the victim's mother, said at the time of his death. "He's a college student, he was working part time. He does everything for his son. His son is his life."