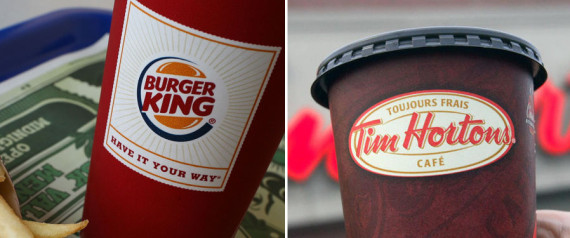 Mohamed Omar | Huff
With the spontaneity of a newlywed couple, Tim Hortons and Burger King have gone and created a new parent company.
Restaurant Brands International will be the name of the new company that houses the two just-hitched firms, according to a press release. RBI will be based in Oakville, Ont. and oversee 18,000 restaurants operating in 100 countries.
The name won't be creeping up on Canadians, though. Restaurant Brands International will only serve as the corporate name, according to Global News.
Tim Hortons will remain "an independent, iconic Canadian brand," said Marc Caira, president and CEO of Tim Hortons Inc, "but with significant opportunities to accelerate our brand development around the world."
The move now needs approval at a hearing at the Ontario Superior Court of Justice, scheduled for Thursday.
Burger King's purchase of Tim Hortons, which was approved by the federal government on Dec. 4, has yielded more than just a new parent company.
Bloomberg reports that top execs at Tim Hortons are being rewarded for the extra work they had to put in for the Burger King transaction. Caira will receive a $1-million "discretionary" bonus, while Chief Financial Officer Cynthia Devine will receive $500,000.