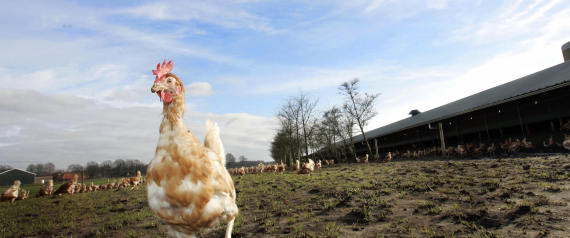 The Canadian Food Inspection Agency has placed two farms in British Columbia under quarantine after avian flu was discovered in birds on the poultry farms (not pictured). | AFP via Getty Images
James Keller, The Canadian Press
Two poultry farms in southwestern British Columbia are under quarantine and thousands of birds are set to be euthanized after the discovery of an avian influenza of the H5 subtype, provincial and federal agencies said Tuesday.
There weren't any reported cases of transmission to humans and health officials had yet to determine the precise strain of the virus, including whether it is the dangerous H5N1 strain or another variation, H5N8, that is currently affecting farms in the Netherlands.
It also wasn't clear how birds on the two farms, which are about eight kilometres apart, were infected.
Dr. Harpreet Kochhar, Canada's chief veterinary officer, said tests were conducted Sunday after bird deaths were reported at a turkey farm in Abbotsford and a chicken farm in Chilliwack, both located in the Fraser Valley east of Vancouver.
Kochhar said the Canadian Food Inspection Agency doesn't yet know what N-subtype they are dealing with, which will guide their response.
"In terms of the pathogenicity, it's still something we will have to test," he said on a conference call with reporters.
"It is showing a heavy mortality in the poultry population that has been affected in the two barns. At this point, it's rather preliminary to determine how serious it will be in terms of its spread and further control."
B.C.'s provincial health officer, Dr. Perry Kendall, said those results should be ready by Thursday.
"Judging by the mortality rate, this is (a) high path (virus)," Kendall said in an follow-up interview after the conference call.
Pathogenicity does not indicate the level of danger a virus poses to people. So-called high-path avian flu viruses kill birds, while low-path viruses can reduce egg production.
The infected barn at the Abbotsford farm housed 11,000 turkeys that were to be slaughtered for the Christmas season, and half had already died from influenza. The Chilliwack barn housed 7,000 chickens and about 1,000 of those were already dead.
The remaining birds will be euthanized using carbon dioxide and then composted inside their barns, said Dr. Jane Pritchard, B.C.'s chief veterinary officer. She said the compost can then be safely used on other farms.
Surveillance zones of up to 10 kilometres will also be set up around the infected farms and poultry in those zones will be tested, but the details of that surveillance hadn't been finalized.
There have been avian influenza cases at farms in several Canadian provinces, though the most serious outbreak occurred in 2004 in B.C., also in the Fraser Valley, where the H7N3 strain of the virus spread to 42 commercial poultry farms.
Health officials ordered 17 million chickens, turkeys and other domestic birds slaughtered to contain the virus, which cost the provincial industry hundreds of millions of dollars and led to temporary trade restrictions on B.C. poultry.
Even if testing shows the virus responsible for this outbreak is an H5N1 or an H5N8, that doesn't necessarily mean the virus is the same as the Asian or European viruses carrying the same name.
For example, there are separate strains of H5N1 viruses that have spread in Asia and North America. Study of the genetic sequence of the virus will allow officials to determine if this virus comes from a North American lineage or is related to viruses further afield.
Health officials cautioned that avian influenza poses little risk to people who are consuming poultry meat if it is handled and cooked properly. In rare cases, the virus can transmit to people who have had close contact with the birds.