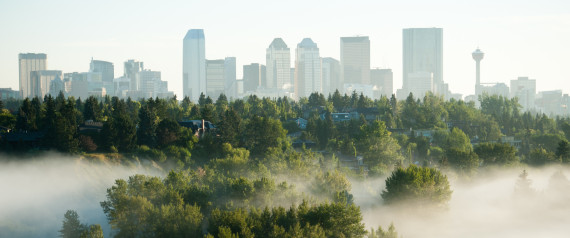 File photo of Calgary's skyline. | Lynn Koenig via Getty Images
Zi-Ann Lum | Huff
A recent slip in oil prices hasn't bucked Alberta's housing market from being one of the country's most affordable, according to a report released by RBC Economic Research on Wednesday.
Considered part of Canada's current trio of "hot" markets, Calgary sets itself apart from Vancouver and Toronto because of its "attractive" affordability.
Economists attribute the province's housing market buoyancy to factors including a strong energy-backed economy, rising incomes, and a population boom. And the results speak for themselves: home resales in Alberta increased by 0.9 per cent from last quarter, setting a new record high.
"A strong economy and rapid population growth continue to trump any possible worries that Alberta's energy boom might bust in the near future," RBC's chief economist Craig Wright explained in a statement.
The report reveals the cost of an average detached bungalow in Alberta to be $405,700, a standard two-storey home slightly more at $410,200, and a condo at $242,800.
According to Wright, the province's affordability reputation is drawing more and more prospective buyers. For example, housing demand in Calgary is outpacing supply despite new listings increasing 17 per cent in the second and third quarters.
It's an effect that's pushing the city's home prices up "at the fastest pace in Canada."
As for affordability complaints, the report suggests they are "almost entirely" centered in Vancouver and Toronto's competitive markets where dollars are "most stretched."
Nationally, RBC's affordability index eased slightly by 0.2 percentage points to 47.8 per cent for two-storey homes, decreased 0.3 percentage points to 27.1 per cent for condos, and increased by 0.1 percentage points to 42.6 per cent for detached condos.
The index calculates affordability by scoring the percentage of median household income (before taxes) needed to make mortgage, utility, and property tax payments.
For cash-strapped prospective homebuyers, RBC economists say condos continue to be the "more affordable ownership option" in nearly every market.