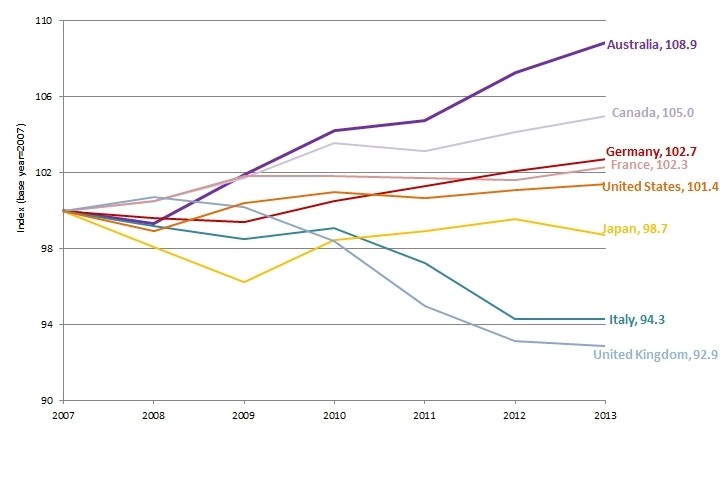 Real wage growth among developed G20 countries. Source: ILO
Daniel Tencer | Huff
Canada has seen the second-largest wage growth of any developed G20 country in recent years, according to a new report from the International Labour Organization (ILO).
But it seems to be a case of Canada simply being among the least bad of a bad bunch. Wage growth in the developing world has stalled to nearly zero, the ILO report said.
In the six-year period from 2007 to 2013, covering a large part of the post-recession era, real wages in Canada grew by 5 per cent, or less than one per cent per year.
Only Australia came ahead of Canada, with wages there rising 8.9 per cent in that period. Both countries are resource exporters and benefitted from "a boom in commodities," the report said.
By comparison, the U.S. saw real wages, meaning wages adjusted for inflation, grow by a mere 1.4 per cent.
And many countries saw wages fall during this time, with the U.K. seeing the worst drop among G20 countries. Wages there fell 7.1 per cent between 2007 and 2013
But even the U.K.'s numbers look good compared to wages in crisis-ridden Greece, which fell 24.2 per cent during that period. Greeks have lost nearly a quarter of their earning power.
Wage growth in the developed world has pretty much stagnated in the past few years, rising 0.1 per cent in 2012 and 0.2 per cent in 2013, the ILO report said.
Overall wage growth for the world slowed to 2 per cent in 2013, from 2.2 per cent in 2012, but just about all that growth was due to the developing world (up 6.7 per cent in 2012 and 5.9 per cent in 2013).
But with oil prices in the doldrums and mining and energy stocks taking a beating, the factors driving Canadian wages ahead of other countries' are now under pressure.
Oil prices have fallen more than 35 per cent since the summer, and some $150 billion-worth of oil projects worldwide are in danger at current prices, according to Reuters.
The latest unemployment report from StatsCan, released Friday, shows Canada lost 10,500 natural resource jobs in November, with 2.7 per cent of these jobs lost over the past year.
But other sectors of the economy are holding up better; a strong real estate market means construction employment is up 2.8 per cent on the year.
And thanks to a weaker loonie and a strengthening U.S. economy, manufacturing is staging something of a comeback, with employment up 0.6 per cent on the year, a turnaround from years of job losses.