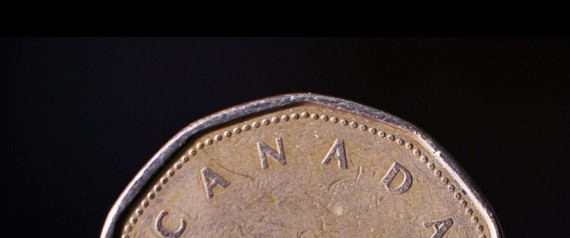 The Canadian dollar plunged to 86 cents today in the wake of turmoil in oil and stock markets. | CP
CBC
The Canadian dollar plunged to 86 cents today in the wake of turmoil in oil and stock markets.
The loonie was trading at a 5½-year low of 86.69 cents US.
Oil prices seemed to pause in the steep descent they've made in the last two weeks.
West Texas Intermediate crude, the contract traded in New York, was down just 18 cents at 11.30 a.m. ET, to $60.76 US a barrel, after falling more than $2 Wednesday.
Brent crude edged higher, up 23 cents, to $64.47 US. It is down 37 per cent over the last three months.
The discount for the Canadian contract, Western Canada Select, has widened in the past six weeks as the extent of the oil glut became evident.
The difference between WCS and the WTI contract, which was as low as $8 earlier this year, is now $18 with WCS trading at $42.51. But that's less than a year ago, when the discount on Canadian oil was as high as $40.
The boom in U.S. shale oil has led to a glut of oil worldwide and eaten into the biggest market for Canadian oil – the U.S.
WCS should be benefiting from the startup of major new pipelines such as Enbridge Inc.'s 600,000 barrel-a-day Flanagan South conduit to the U.S. Gulf Coast, but the turmoil in markets has companies looking at cutting back.
While the loonie dropped, Toronto stocks recovered from Wednesday's steep 343-point slide.
The TSX was up 205 points to 14,059 as investors sought bargains among beaten-down stocks.
Industrial, tech and financial stocks gained, but energy stocks remained laggards.
Cenovus Energy announced Thursday it is cutting 2015 capital spending to between $2.5 billion and $2.7 billion, down about 15 per cent from 2014 levels. Its shares declined 18 cents to $20.92.
The Dow industrial average also moved higher, up 202 points to 17,735.
U.S. retail sales perked up in November with the start of the holiday shopping season, rising 0.7 per cent, led by online buying and purchases of autos, clothing and electronics. That helped boost New York stocks.