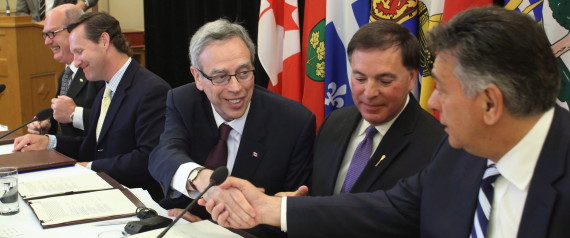 Canada's Finance Minister Joe Oliver, center, shakes hands with Ontario Finance Minister Charles Sousa
Allison Jones, The Canadian Press
The federal government says Ontario will receive an additional $1.25 billion in transfers from Ottawa next year.
Federal Finance Minister Joe Oliver says the province will receive more than $20.4 billion in transfers in 2015-16 — the most of any province.
Ontario Finance Minister Charles Sousa says the federal government shortchanged his province in 2014-15 by $640 million when it unilaterally tweaked the transfer calculations.
Sousa says Ontario did not receive the amount it would have under the old equalization formula.
He sent a letter to Oliver last week saying those changes put Ontario's plan to balance its books by 2017-18 at risk.
Sousa says Ottawa's latest transfer figures for next year now put Ontario where it should be.