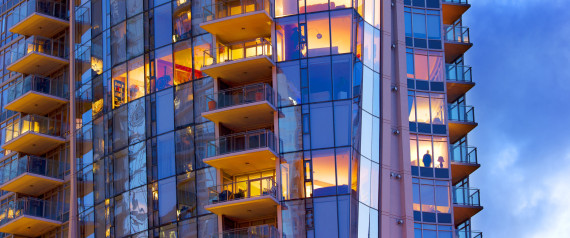 Rob Atkins /Getty Images
Canada Mortgage and Housing Corp. says only a small minority of the condos for rent in most major urban areas have foreign owners, although some neighbourhoods in Vancouver, Toronto and Montreal are higher.
The CMHC says its first survey of foreign ownership of condos for rent found a wide range within the 11 major markets that were tracked, from a high of 2.4 per cent in Toronto and 2.3 per cent in Vancouver to a low of only one-tenth of a percentage point in several cities.
The survey suggests, however, that certain areas of Montreal had Canada's highest concentration of rental condos under foreign ownership — at 6.9 per cent.
Parts of Vancouver had about 5.8 per cent of rental condos under foreign ownership while in Toronto's centre core the rate was about 4.3 per cent.
CMHC cautioned that some of the survey's findings for very specific areas were based on small sample sizes that reduced the reliability of the information.
Foreign ownership of real estate in Canada and the Vancouver market in particular has been widely speculated about, however there has been little data.
Many have suggested wealthy foreign buyers have driven up home prices in Vancouver and critics have raised concerns about what that could mean for the market if those buyers decided to cash out and sell.
The foreign investor rate in the Montreal metropolitan area came in third after Toronto and Vancouver, with 1.5 per cent, followed by Victoria at 1.1 per cent. The other cities tracked were below one per cent: Ottawa (0.7 per cent), Quebec (0.6 per cent), Saskatoon (0.3 per cent), Calgary (0.2 per cent), while Edmonton, Regina and Winnipeg were at 0.1 per cent.
CMHC says its semi-annual report on rental vacancy rates attempts to fill in some information gaps about Canada's housing markets.
"To address this need CMHC has, for the first time, asked property managers to provide information on the total number of condominium apartment units owned by people whose permanent residence is outside of Canada as part of its survey," the federal agency said Tuesday.
The overall report found the rental apartment vacancy rate in Canada's 35 larger centres increased to 2.8 per cent in October from 2.7 per cent in the same month last year, as the supply of new housing built for rent grew less than demand.
The average rent for two-bedroom apartments in existing structures across Canada's 35 larger centres increased 2.5 per cent between October 2013 and October 2014. The average rent for a two bedroom apartment in new and existing structures was $941 in October 2014.
The condo portion of the rental market had higher vacancy rates, ranging from a high of 3.4 per cent in Montreal to a low of 0.7 per cent in Vancouver. Average monthly rents for two-bedroom condominium apartments were highest in Toronto ($1,818) and lowest in Quebec City ($1,070).