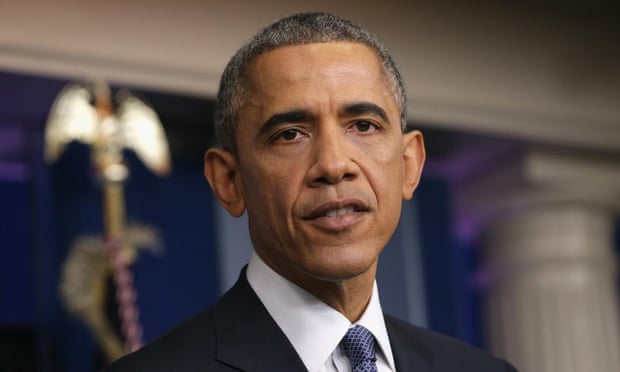 President Obama at the White House. Photograph: Chip Somodevilla/Getty Image
The FBI accused North Korea of the cyberattack on Sony over its film The Interview. The agency cited analysis of malware and similarities to past hacks by North Koreans as evidence.
No other country was implicated in the attack, President Barack Obama said in a briefing with reporters. "We will respond," he said, "we will respond proportionally, and in a place and time that we choose."
Obama said Sony made a mistake by acceding to the hackers' demands that its satirical film be scrapped. "We cannot have a society where some dictator someplace can start imposing censorship here in the United States …That's not who we are."
Sony chairman Michael Lynton insisted his company made no such mistake and would still try to distribute The Interview. He tried to shift blame onto the theaters that refused to carry the film after the hackers' threats.
A North Korean diplomat denied any connection between the country and the hack, saying "DPRK is not part of this." The country's ambassador to the UN had previously described The Interview as "an act of war".
Obama urged Congress to pass a cybersecurity bill that would codify rules for information sharing between the government and private sector. He also answered questions at length about Cuba, race relations and the Keystone XL pipeline.
Guardian