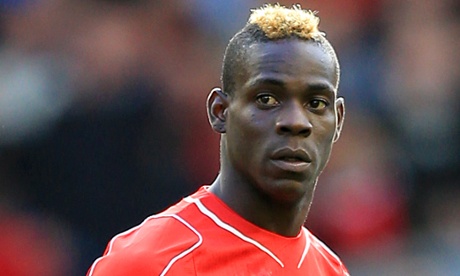 Mario Balotelli has insisted his message on Instagram did not mean to cause offence. Photograph: Peter Byrne/PA
Jamie Jackson
| Guardian
Mario Balotelli has been contacted by the Football Association for his observations regarding the Super Mario image he posted on Instagram and has until 6pm on Friday to respond.
The FA is considering whether to charge Balotelli for misconduct so will take into account the Italian's response to the governing body's request and the apology he issued earlier on Tuesday.
The Liverpool striker said he was sorry for the post that has caused him to be accused of antisemitism and racism. On Twitter he wrote: "I apologize if I've offended anyone. The post was meant to be anti-racist with humour. I now understand that out of context [it] may have the opposite effect. Not all Mexicans have moustache, not all black people jump high and not all Jewish people love money.
I used a cartoon done by someone else because it had Super Mario and I thought it was funny and not offensive. Again, I'm sorry."
On Monday Balotelli republished the image of Super Mario – a Nintendo computer game character with whom he shares a nickname – that had the legend: "Don't be racist. Be like Mario. He's an Italian plumber, created by Japanese people, who speaks English and looks like a Mexican … jumps like a black man and grabs coins like a jew."
One Jewish leader has condemned Balotelli's actions and impressed on him the need to "be more careful".
"It is incredibly offensive," Jonny Wineberg, vice-president of the Jewish Representative Council of Greater Manchester, told the Manchester Evening News. "We know it's patently untrue and it's reinforcing a stereotype. Comments like that have no place from anybody but he will be aware that someone like him, in the public eye, will be paid attention to. He should be more careful."
The Board of Deputies of British Jews also welcomed the FA's investigation. Its president, Vivian Wineman, said: "Balotelli's sharing of images which use unacceptable language and appeal to classic antisemitic tropes is troubling.
"We were pleased to see his immediate retraction and apology but such language has no place in public discourse. We welcome the decision by the FA to investigate this matter."
Liverpool's manager, Brendan Rodgers, shed no light on his feelings regarding the issue after Liverpool's 3-1 win at Leicester. "I don't know hardly anything about it," he said. "I've been busy preparing the team and I'll probably find out more tomorrow when I go back to the club."
Rio Ferdinand was banned for three games and fined £25,000 in October for using the term "sket" in a tweet. It was the Queens Park Rangers defender's second Twitter-related offence in just over two years.
Balotelli is not available for Liverpool's trip to Leicester City on Tuesday evening because of a groin injury