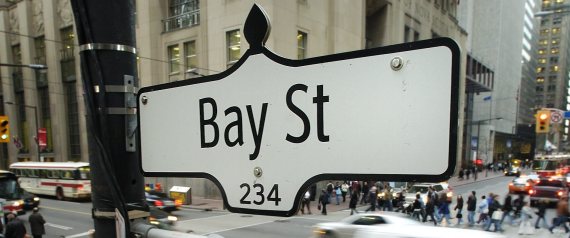 The TSX closed off its best week in three years on Friday, closing the day up 121.51 points, at 14,468.26. | CP
The Canadian Press reports:
TORONTO -- The Toronto stock market closed sharply higher Friday, adding to a string of solid gains as investors continue to buy up stocks oversold in the course of a fall sell-off.

The S&P/TSX composite index finished the day up 121.51 points at 14,468.26.

The major corporate story of the day was BlackBerry (TSX:BB) as the smartphone maker's revenue fell short of estimates even as the company posted a profit of one cent a share after adjustments, beating expectations of an adjust loss of five cents a share.




The company narrowed its net loss to US$148 million or 28 cents, an improvement from a year ago when it posted a loss of $4.4 billion or $8.39. BlackBerry's revenue was US$793 million versus analyst predictions of US$931 million, and down from $1.19 billion a year ago. Its stock finished well off the worst levels of the session, down 12 cents or 1.03 per cent at $11.55 on heavy volume of 8.3 million shares.

The Canadian dollar was down 0.08 of a cent to 86.15 cents US.

U.S. indexes continued to find traction after the Federal Reserve provided some reassurance earlier this week on the pace of expected interest rate hikes.

The Dow Jones industrials climbed 26.65 points to 17,804.8, the Nasdaq gained 16.98 points to 4,765.38 and the S&P 500 index edged up 9.42 points to 2,070.65.

Stock markets in North America have enjoyed a string of big gains in the last full week of trading in 2014 as the TSX advanced 736 points or 5.36 per cent while the Dow industrials jumped 524 points or three per cent.

Investors got a big dose of reassurance from the Fed's mid-week announcement on interest rates. While a hike in short-term rates from near zero is widely expected around the middle of 2015, there have been concerns the Fed could move even earlier.

The Fed said economic data will determine when it hikes, but Fed chairwoman Janet Yellen said Wednesday that she foresaw no rate hike in the first quarter of 2015.

On the Toronto market, the energy sector has by far been the biggest beneficiary of a four-day run of bargain hunting that sent the component up about 15 per cent this week. The sector is still down about 18 per cent year to date, having been positive about the same amount mid-summer before oil prices started to collapse amid demand worries but especially because of a huge supply glut.

Crude prices have plunged almost 50 per cent since mid-year highs but seemed to find support around the US$55 a barrel level this week. On Friday, oil in New York climbed $2.41 to US$56.52 a barrel and the energy sector gained three per cent.

"Oil has stabilized here but it really feels like we're just in a consolidation within a downtrend,'' said Colin Cieszynski, chief strategist at CMC Markets.

"If you think about a staircase pattern where you have had the sell-off, then it goes sideways for awhile, and you can't rule out another drop. And in particular, we're just too close to that $50 level to not test it.''

The base metals sector was ahead 1.13 per cent as March copper gained three cents to US$2.88 a pound.

The gold sector fell 1.3 per cent even as February bullion was up $1.20 to US$1,196 an ounce.

The industrials group was another major decliner, down 0.7 per cent.