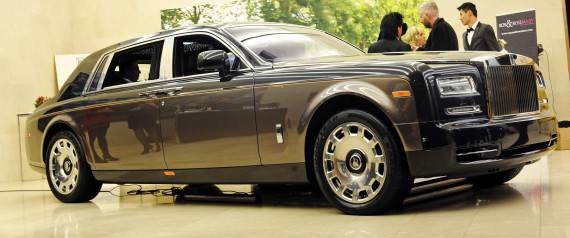 This Phantom Pinnacle Travel Edition for sale in Vancouver is one of only 15 in the world. | Todd Duncan
Sara Harowitz | Huff
The heat has turned up on Vancouver's luxury car selection with the unveiling of the most expensive Rolls-Royce ever to come to Canada.
The Phantom Pinnacle Travel Edition, unveiled at Rolls-Royce Motor Cars Vancouver on Thursday, is priced at $829,000 — before tax. Vancouver's model, brought to the city by OpenRoad Auto Group, is just one of 15 in the world and one of two in North America.
Whoa.
The supercar was inspired by luxury cross-continental train travel, so it has exquisite detailing, as well as the latest in-car technology. The coachline was hand-painted and finished with a gold theme and the interior features lambswool floor mats.
It also features 230 individual pieces of wood veneer that were laser-cut and assembled by hand to look like a train zooming across a landscape.