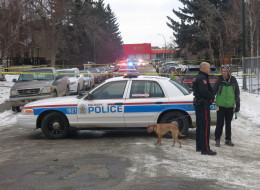 Calgary Police cordon off a street in southwest Calgary after several people were wounded at a house party on Thursday, Jan. 1, 2015
Bill Graveland, The Canadian Press
Gunfire at a New Year's house party shattered the predawn quiet in a sleepy Calgary neighbourhood Thursday morning, leaving one person dead and six wounded.
"All I heard was like this 'pop, pop, pop, pop.' I was half asleep, half awake, and that's all I heard, and I didn't really know what it was so I just went back to sleep,'' said Nita Nestman, who lives in a condo on the same street.
Nestman said the street had been quiet for most of the evening. When she heard the noise she didn't expect it to be gunfire.
"I was like, 'What the heck is that noise? Tires popping?''' she said.
"It didn't even enter my mind that's what it was.''
A man wounded in the shooting later died of his injuries in hospital, police said in a news release issued late Thursday. An autopsy was to be performed on Friday. The victim's identity was to be made public after the autopsy.
Det. Steve Adair says police received multiple 911 calls just after 5 a.m. reporting gunshots fired and that by the time officers arrived, the suspect or suspects had already left the scene.
Responding officers located five people in and around the house with gunshot wounds and Adair says two other people later showed up at local hospitals for treatment.
He said those who were wounded suffered injuries ranging from minor to serious. Police said the victims were both male and female and were in their early 20s and 30s.
The street in the tree-lined neighbourhood was blocked off by police tape. A heavy police presence was visible on both ends of the block.
A black sweater was lying on the sidewalk in front of what appeared to be a newly built townhouse. Snow in the front yard was trampled. The home, which had a huge pine tree in front of it, was not readily visible.
Adair says more than 50 people were at the house party and police were questioning about a dozen witnesses who were taken away from the scene on a city transit bus.
Police have sealed off the scene and the forensics team has been called in to look for evidence, Adair added.
At a news conference later Thursday, police said they didn't have a motive for the shootings, nor could they say how many suspects investigators were seeking.
However a police spokesman called the shooting a "one-off'' and suggested there was no danger to Calgary.
"Incidents like this while they are profound and they cause concern, they still are relatively isolated,'' Acting Insp. Quinn Jacques told reporters.
"That offence took place because the wrong people congregated in that place,'' he said.
Police want to speak to as many people who were at the party as they can, Jacques said.
"It's very important because everyone is going to be able to offer a different perspective on what occurred and in order for us to do a comprehensive and complete investigation and we'd like to speak with everyone who was in the area at the time,'' he said.
Abdul Rasham el Kadri, who has lived on the street since 1990, said he was asleep when the incident happened and heard nothing.
He called it a really nice neighbourhood.
"I know almost all my neighbours here and they know me and it's a beautiful neighbourhood,'' said el Kadri.
"I was really surprised when I heard this.''
El Kadri said the street, which is a combination of older homes and freshly built townhouses, has never had a problem with loud parties, crime or violence.
"Never. Never,'' he said. "This is the first time something happened like that.''