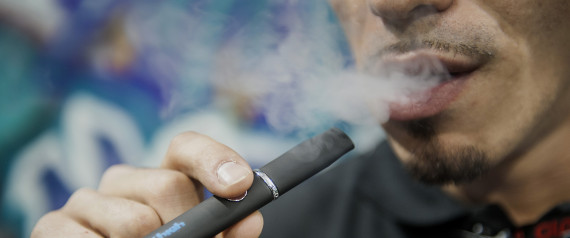 A marijuana vaporizer is demonstrated during the Champs Trade Show in Las Vegas, Nevada, U.S., on Tuesday, Jan. 21, 2014. New Brunswick's first medical marijuana vapour room has opened in Oromocto, just down the road from 5th Canadian Division Support Base Gagetown. | Bloomberg via Getty Images
CBC
New Brunswick's first medical marijuana vapour room has opened in Oromocto, just down the road from 5th Canadian Division Support Base Gagetown.
Marijuana For Trauma Inc. has expanded its Restigouche Road facility to include the new room, saying it is a necessary support for Canadian Forces veterans and others suffering from post-traumatic stress disorder (PTSD).
The vapour room will allow those who pay a $5 annual membership fee to try out different machines to vaporize their prescribed marijuana.
Vaporizing heats the marijuana until it releases a vapour, which is then inhaled.
"It's more like a support group for people," said employee Tara McCarron. "There's a lot of people who are new to this, and their friends aren't as accepting. And they want to come in and share experiences, and get to know people who are going through the same kind of journey they are," she said.
"You know, it's a hard road by yourself. This is so people don't feel alone."
Marijuana For Trauma already caters primarily to veterans and the vapour room is just an extension of the other free services offered, such as assisting with getting coverage through Veterans Affairs, said McCarron.
​Employee and veteran Cory Pike expects most of the people who will use the facility have PTSD, like him.
Pike, who also suffered constant pain after two operations on disintegrating discs in his back, says he used to take heavy prescription drugs while on base to get through the day.
But when he later discovered medical marijuana worked much better, with fewer side effects, he only used that at home.
"There's such a big stigma around marijuana, guys just keep things hid," he said. "They want to keep it quiet and on the down-low. No one wants to smell like marijuana going back to work, you're working for the federal government, you're in a uniform."
Attitudes may be changing, however. Veterans Affairs Canada will now pay $300 toward the purchase of a vaporizer by a veteran with a prescription for marijuana.
The vapour room will be open Monday through Friday, from 9 a.m. until 4 p.m.
No smoking, drinking, or guests are allowed.