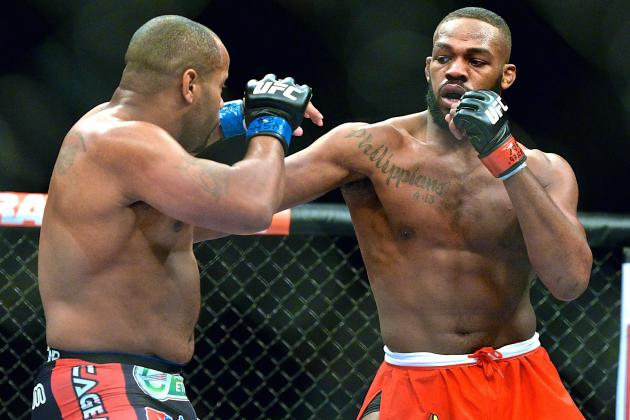 Kevin Lole | Yahoo Sport
After years of buildup, Daniel Cormier finally got his shot at Jon "Bones" Jones. It didn't go the way he always wanted it to, however, as the reigning champion successfully defended his title at UFC 182 via unanimous decision.
There are many MMA fans, and probably many of his peers, who don't care for Jon Jones.
They say he's fake. They call him arrogant.
And while he may be all of those things, he is also the greatest fighter in the world by far. There is no one close to the UFC's light heavyweight champion, who won four of the five rounds on all three judges' cards to defeat rival Daniel Cormier on Saturday at the MGM Grand Garden in the main event of UFC 182.
Jones wasn't particularly gracious after the bout ended and certainly did not even try to endear himself to the fans in the building, who largely were rooting for Cormier.
"It felt great; he's only human," Jones said in the cage. "The undefeated DC. All the haters. All the crap he talked, it motivated me. Five takedowns to zero. I'm sorry for not being classy, but I do not like DC, which is why I'm being this way."
Jones wore a black T-shirt with the word "Unbroken" emblazoned in gold across the front. When the decision was announced, he pounded his chest and shouted, "This team is unbroken."
Surprisingly, he did it largely by out-wrestling Cormier, the two-time Olympic wrestler and the captain of the 2008 U.S. men's freestyle team in Beijing.
Cormier had never been taken down, but Jones did it several times in a dominant performance. The conventional wisdom was that Jones would win if the fight stayed at range, but that the shorter and stronger Cormier would have the advantage if the fight was fought at close range.
It was hardly a compelling bout, and much of it was spent with the two locked in a clinch. But Jones ultimately got the best of most of those situations.
In the second, Cormier seemed to have Jones on the run and was landing several punches, including a series of uppercuts that raised a welt over Jones' right eye by the time the round ended.
But it was all Jones other than that, as Jones beat Cormier at his own game.
It was obvious when the fight was over that not only was Jones the winner, but that he ended any debate if Jose Aldo, Chris Weidman, Cain Velasquez, Anthony Pettis or any of a handful of other guys may be No. 1 pound-for-pound.
It's Jones, and there is no doubt. Even Cormier conceded that.
"I just couldn't find my rhythm tonight," he said. "Jon is the best for a reason and he was the better man tonight."
That he was, and it's likely that he's the best to have ever tried the sport.
Fedor Emelianenko was great in his day, and Anderson Silva had a long run at the top, but neither combined the strength, power, speed and versatility that Jones does.
He's run roughshod through elite opposition and rarely has it ever been close.
He showed a champion's heart in the few times the bout got heated and when he was taken down after a big slam, he bounced right up.
It was a memorable night and it might be a long time before anyone, Alexander Gustafsson included, ever comes close to this guy.