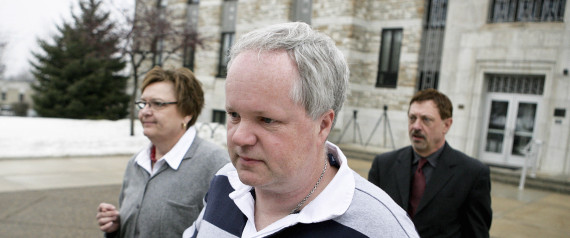 FILE - In this Feb. 17, 2011 file photo, William Melchert-Dinkel, center, leaves the Rice County Courthouse with his attorney Terry Watkins, right, and wife, Joyce Melchert-Dinkel, after waiving his right to a jury trial, in Faribault, Minn. Melchert-Dinkel, 48, of Faribault, faces two counts of aiding suicide, each carrying a maximum sentence of 15 years in prison. Prosecutors say he encouraged two people to take their lives, including 18-year-old Kajouji, of Brampton, Ontario, who jumped into | ASSOCIATED PRESS
A former nurse in Minnesota who admitted to going online years ago and preying upon suicidal people — encouraging two to take their lives — must serve nearly six months in jail as part of a sentence handed down Wednesday.
William Melchert-Dinkel was sentenced to three years in prison in the deaths of an English man and a Canadian woman, but he won't have to serve the prison term if he complies with conditions of his probation that include the jail time.
In Minnesota, state prisons house serious offenders while local cells are for less serious offenders.
Melchert-Dinkel must report to jail on Oct. 24.
"I am sorry... for my actions and what I have done," Melchert-Dinkel said in court before he was sentenced. "I have repented."
The 52-year-old was convicted in September of one count of assisting a suicide and one count of attempting to assist a suicide in the deaths of Mark Drybrough, 32, of Coventry, England and Nadia Kajouji, 18, of Brampton, Ont..
The convictions came after the Minnesota Supreme Court narrowed the state's assisted-suicide law and reversed earlier convictions.
Kajouji jumped into a frozen river in 2008. She was a student at Carleton University in Ottawa at the time. Drybrough hanged himself in 2005.
__
Here's a look at the case:
HOW IT BEGAN
Minnesota authorities began investigating in March 2008 after an anti-suicide activist in Britain claimed someone in the state was using the Internet to manipulate people into killing themselves. Authorities found emails in which Melchert-Dinkel gave a man technical advice on how to hang himself and online chats in which Melchert-Dinkel tried to talk a woman out of her plans to jump into a river and instead hang herself with him.
He was ultimately convicted in the deaths of Kajouji Drybrough.
Authorities said Melchert-Dinkel was obsessed with suicide and hanging and sought out potential victims online. When he found them, prosecutors said, he posed as a female nurse, feigned compassion and offered step-by-step instructions on how they could kill themselves. Court records show Melchert-Dinkel told police he did it for the "thrill of the chase."
__
THE FIRST CONVICTION
Melchert-Dinkel was convicted in 2011 by Rice County Judge Thomas Neuville, who found that he "intentionally advised and encouraged" Drybrough and Kajouji to take their lives.
Defence lawyer Terry Watkins appealed, saying Melchert-Dinkel's actions might have been immoral, but they were not illegal. Melchert-Dinkel remained free on appeal.
__
HOW WE GOT HERE
The Minnesota Supreme Court reversed Melchert-Dinkel's convictions earlier this year. The justices found that Minnesota's law banning someone from "encouraging" or "advising" suicide is unconstitutional because it encompasses speech protected under the First Amendment. But the justices upheld part of the law that makes it a crime to "assist" in someone's suicide — and said speech could be considered assisting.
Neuville ruled last month that Melchert-Dinkel assisted in Drybrough's suicide and attempted to assist Kajouji's suicide, because she ultimately rejected his advice to hang herself and jumped into the river instead.
Melchert-Dinkel apologized Wednesday and said he wanted to continue to be a productive member of society.
Neuville said Melchert-Dinkel must face consequences.
"I believe you and your family have suffered. My sentence is also an attempt to recognize the need for justice to the victims," he said.
___
WHAT'S NEXT
Melchert-Dinkel will avoid prison if he abides by probation terms for the next 10 years. Meanwhile, his lawyer Watkins says he thinks he has good grounds for appeal, arguing Melchert-Dinkel wouldn't have waived his right to a jury trial and that Watkins would have mounted a different defence under the law as narrowed by the Minnesota Supreme Court.
Rice County Attorney Paul Beaumaster said Wednesday's sentence affirms that what Melchert-Dinkel did was wrong.
"Am I satisfied that justice was done? Yes," Beaumaster said. "He has been held accountable."