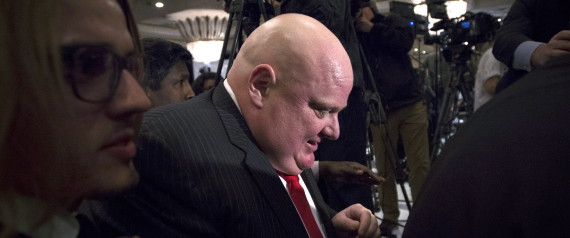 The tumour in Rob Ford's abdomen hasn't shrunk with chemotherapy treatments, doctors say – but it hasn't grown either. And now he's also been diagnosed with pneumonia.
Ford told the Toronto Sun's Joe Warmington on Thursday that because his tumour hasn't changed in size, surgeons are still not able to operate on it. Despite the "bad news," the newly elected Etobicoke councillor is staying optimistic.
"I see that as a positive and am approaching it that way. The growth of the tumour has been stopped in its tracks," he said. "It hasn't grown in seven or eight weeks. It is the same size it was."
The newspaper reports he's been prescribed a "heavy dose of antibiotics" to treat his pneumonia.
The Toronto mayor was diagnosed with a "fairly aggressive" case of malignant liposarcoma in September after complaining about abdomen pains.
On Monday, voters in Ward 2 Etobicoke North re-elected Rob as councillor and beat his lesser-known challengers by a landslide.
The controversial populist politician won the council seat in City Hall after withdrawing his name from the mayoral race after his cancer diagnosis. His brother, Coun. Doug Ford, entered the race in the mayor's place, but lost to John Tory – who won the mayoralty with 40.3 per cent of the vote.
Rob praised his brother's "phenomenal" campaign efforts in his victory speech, adding, "Folks, if you know anything about the Ford family, we never, ever give up."
Ford is expected to return to Mount Sinai Hospital on Monday for a third round of chemotherapy. An update on his health is expected be offered by a member of his medical team the same day.
Zi-Ann Lum
| HuffPost