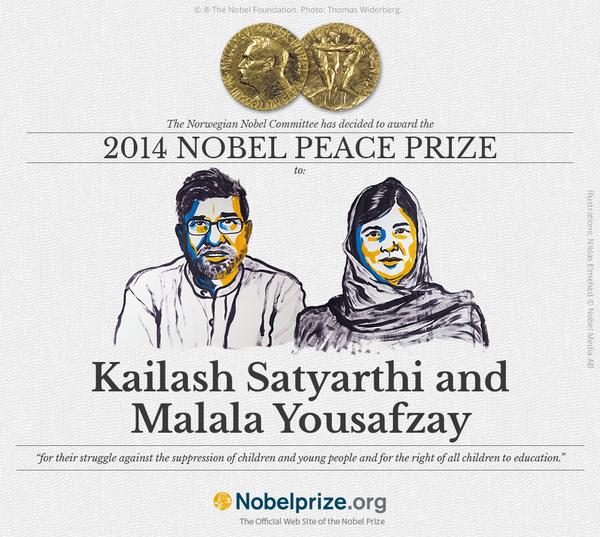 Malala Yousafzai, the Pakistani teenage education campaigner shot on school bus in 2012 by a Taliban gunman, has won the 2014 Nobel peace prize.
Malala won along with Kailash Satyarthi, an Indian children's rights activist.
The two were named winner of the £690,000 (8m kronor or $1.11m) prize by the chairman of the Nobel committee - Norway's former prime minister Thorbjoern Jagland - on Friday morning.
Malala, now 17, was shot in the head by a Taliban gunman two years ago in Pakistan after coming to prominence for her campaigning for education for girls.
She won for what the Nobel committee called her "heroic struggle" for girls' right to an education. She is the youngest ever winner of the prize.
After being shot she was airlifted to Queen Elizabeth hospital in Birmingham, where she was treated for life-threatening injuries.
She has since continued to campaign for girls' education, speaking before the UN, meeting Barack Obama, being named one of Time magazine's 100 most influential people and last year publishing the memoir I am Malala.
Last month a gang of 10 Taliban fighters who tried to kill her were arrested, the Pakistan army claimed.
Guardian