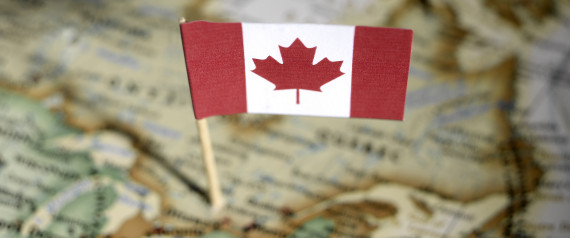 Canada's regional disparity is among the widest in the developed world, but the gap between the richest and poorest regions has actually shrunk since the financial crisis. | Jeffrey Coolidge via Getty Images
Canada's regional disparity is among the widest in the developed world, but the gap between the richest and poorest regions has actually shrunk since the financial crisis, according to
a new OECD study
.
The country's regional levels of inequality of economic output per person (GDP per capita) were the third highest among OECD countries in 2010, the year used for comparison in the international organization's Regional Outlook 2014.
The U.S. had the highest level of regional disparity among the countries studied. However, there was a growing regional gap in half of the 33 countries the OECD examined.
"Inequalities between places and among populations remain entrenched," the organization said, adding its report captures a snapshot of the state of disparity at a time when many regions and cities are still trying to bounce back from the 2008-2009 financial crisis.
"Where disparities have narrowed, this has generally reflected weak performance in wealthier regions, rather than growth in poorer ones."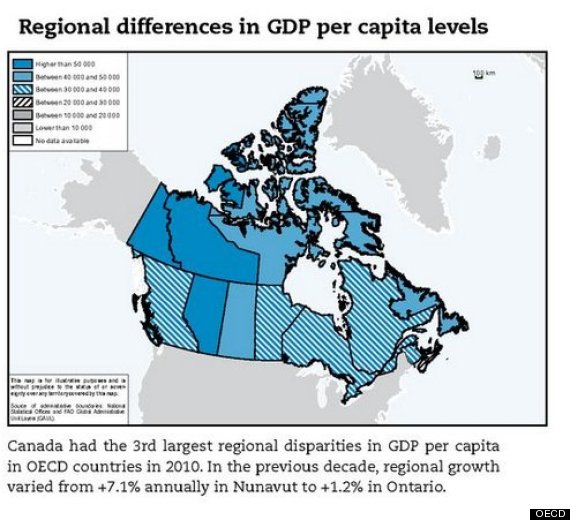 Canada was among the half of countries whose gap in GDP between the richest 10 per cent and poorest 10 per cent of regions actually closed from 2008 to 2010. The ratio comparing the 10 richest regions to the 10 poorest shrank by 14 per cent. Only developing countries, like India and China, saw their regional gaps shrink faster.
But Canada was also one of just six countries where the richest regions saw their wealth decline, and the poorest regions saw a boost in GDP.
The recent resource booms in so-called "have-not" provinces Saskatchewan and Newfoundland and Labrador could be behind some of that movement. Both regions had some of the highest growth rates in economic output and labour productivity among all the countries studied.
HuffPost