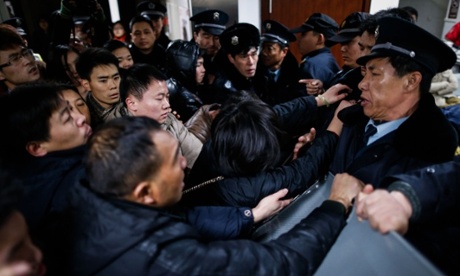 Angry family members clash with security personnel in a hospital where some of the victims of a stampede by new year's revellers were sent in Shanghai on January 1, 2015. Photograph: STR/AFP/Getty Images
Jonathan Kaiman | Guardian
A New Year's Eve celebration in Shanghai ended in disaster when a stampede left at least 36 people dead and nearly 50 others injured, marking one of the biggest disasters to befall a major Chinese city in recent years.
The stampede began at about 11.35pm in Shanghai's Chen Yi Square, a wide promenade popular with tourists between a row of historic art deco buildings and the Huangpu riverfront, according to China's state newswire Xinhua.
Witnesses told Agence France-Presse that the mayhem centered on a stairway leading up to a viewing platform overlooking the river. Some people were trying to climb to the platform as others tried to get down, causing panic and mass confusion.
"People were screaming, women were screaming and people starting jumping off the staircase to get clear," a Shanghai resident named Sarah said. "There was a quiet, and then people on the stairs fell in a wave and people started to get trampled."
A video posted later by the newspaper Southern Metropolis Daily showed dense crowds pushing to descend a low staircase, causing some people at the front to topple under the weight of the crowd. At 11.40pm, the crowd began to chant "fall back," which appeared to momentarily ease the crush and the panic. By 11.55pm, enough people had cleared away from the staircase to reveal a few people lying on the ground amid scattered rubbish.