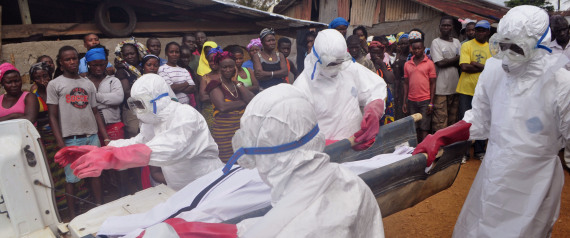 Ebola health care workers carry the body of a man suspected of dying from the Ebola virus in a small village Gbah on the outskirts of Monrovia, Liberia, Friday, Dec. 5, 2014. (AP Photo/ Abbas Dulleh)
The World Health Organization says the number of reported Ebola deaths in West Africa has risen to 7,905.
The WHO says altogether some 20,206 cases of Ebola virus disease have been reported since the outbreak in December 2013.
Guinea, Liberia and Sierra Leone have been the hardest-hit countries in the epidemic.
An update released late Wednesday by the WHO says that new cases in Liberia have mostly declined in the past six weeks.
In Sierra Leone, there are signs the increase of new cases has slowed, but the agency says "the country's west is now experiencing the most intense transmission of all the affected countries."
The situation of the epidemic in Guinea is fluctuating, with between 70 and 160 confirmed cases over the past 15 weeks.
Copyright 2015 The Associated Press. All rights reserved. This material may not be published, broadcast, rewritten or redistributed.