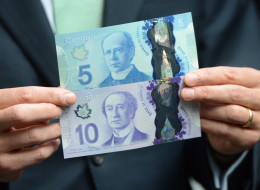 The Bank of Canada is in hot water again over bank note design, just days after it revamped its policies to avoid more embarrassing controversies about the country's currency.
Former governor Mark Carney apologized to Canadians in August 2012 when it was revealed the bank had erased the Asian features of a female scientist featured on prototypes of the new $100 plastic banknote, after focus groups raised questions about her ethnicity.
The woman's image was digitally altered to make her look Caucasian, a measure one bank official said was to ensure "ethnic neutrality."
A penitent Carney ordered a review of the design process for all future banknotes and Stephen Poloz, his successor, last week announced a new process as well as an online public consultation, ending Nov. 10.
But the announcement has only stirred up more trouble for the bank, as a group pressing to have images of famous women included in the next set of banknotes learned that their petitions and letters have apparently fallen on deaf ears.
The Bank of Canada's newly released design principles say nothing about putting women on the currency, vaguely referring only to "diversity."
"It's disappointing, it's insulting, it's discriminatory and it's offensive," said Merna Forster, a historian and author in Victoria who has been leading the public campaign.
"How many more surveys and public consultations will it take to convince the Bank of Canada to commit to including women on bank notes," she said in an interview. "This is not rocket science."
Feminist icons dropped
The current series of polymer banknotes feature no famous Canadian women, though the Queen's image is on all denominations. The previous series included images of the Famous Five, who fought for women's rights in Canada, and Therese Casgrain, a Quebec feminist. But they were all replaced on the new $50 note by an image of an icebreaker.
The disappearance of women figures prompted scattered protests, including from Calgary city council. But Forster's campaign kicked into high gear last year after she was inspired by a British lobbying effort that was successful in getting an image of Jane Austen included on the next 10-pound notes, set for release after 2016 in the United Kingdom.
Ironically, the commitment to include the Austen image came from Mark Carney, the new Bank of England governor who years earlier in Canada had overseen the removal of images of women on Canada's redesigned currency.
Forster began an online petition that now includes about 44,000 names, including author Margaret Atwood and actor Kim Cattrall. Some 12,000 signatures were added in the last few days, after the bank's announcement.
Forster has already been rebuffed once before, after writing repeatedly to the central bank. Last year, Poloz wrote to her saying it would be premature for the Bank of Canada to commit to including images of women on any new currency issues.
"It's clearly discrimination against women," Forster said in an interview. "It perpetuates the myth that women are not nation builders."
Focus on achievements
The Bank of Canada, on the other hand, says it wants to wait for the consultation process before making any commitment. The bank says previous public opinion research showed Canadians want to celebrate collective achievements, rather than individuals, and so the current series features themes such as medical advances rather than historic figures.
"These notes depict Canada's exploits and accomplishments, endeavours in which Canadian women and men have contributed," said spokesman Alexandre Deslongchamps.
Deslongchamps added that the current banknotes, introduced between 2011 and 2013, are expected to last for at least eight years before needing replacement so there is no immediate requirement for new designs.
Forster said she plans to continue her campaign, noting the British campaign included a threat of legal action. A court challenge in Canada might draw on Section 15 of the Charter of Rights and Freedoms, which forbids sex discrimination, she said.
She also noted that Australia, to whom the Bank of Canada looked for advice on its new plastic bills, features historic women on most denominations.
The current banknotes have been plagued with other controversies. Vending machine operators said they were not given enough time to recalibrate their machines for the new plastic bills, especially the smaller denominations.
And earlier this year, the bank acknowledged that the $10 note did not depict Mount Edith Cavell in the Canadian Rockies as it had previously claimed.
The bank has also had to deny a hoax the banknotes were impregnated with the odour of maple syrup, as well as claims that the plastic bills are prone to melting from being placed near ordinary heat sources, such as radiators.