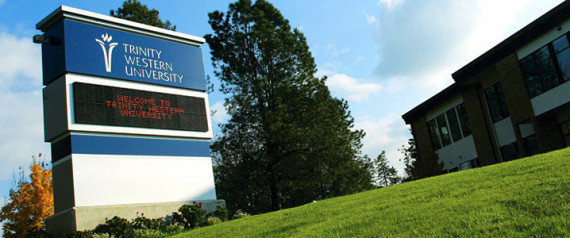 Trinity Western University. | Trinity Western University
Kamloops This Week, The Canadian Press
A graduate of a Christian university in British Columbia has filed a human rights complaint alleging a Norwegian company denied her a job based on religious discrimination.
Bethany Paquette said that in early September, she applied for an assistant guide position with Amaruk Wilderness Corp., which operates its Canadian office in Vancouver.
Paquette graduated from Trinity Western University with a biology degree in June and had worked for three summers guiding with a river rafting company.
"The first (reply letter) was pretty bad and made me upset," said Paquette, who grew up in Kamloops, B.C.
In it, Olaf Amundsen, an Amaruk wilderness guide and instructor, informed Paquette that she was not qualified.
"Unlike Trinity Western University, we embrace diversity, and the right of people to sleep with or marry whoever they want, and this is reflected within some of our staff and management," he said in a series of emails provided by Paquette's lawyer.
"In addition, the Norse background of most of the guys at the management level means that we are not a Christian organization, and most of us actually see Christianity as having destroyed our culture, tradition and way of life."
Paquette replied with a lengthy letter defending Trinity Western's policy of forbidding students from having sex outside of marriage.
She also noted discrimination based on an individual's religious beliefs is contrary to Canadian law.
Amundsen and other Amaruk officials then slammed Christianity, the university and Paquette.
Amundsen said Amaruk believes "everybody is entitled to their beliefs and opinions, and this works quite well in our company.
"However, you force other people to embrace your religious beliefs by preventing them from doing as they wish with their own life and body . . . People who did not agree with your church would be flayed, burnt, roasted, quartered, etc. So, you guys have a long history of intolerance."
Amundsen closed his letter to Paquette by calling himself a "Viking with a PhD in Norse history" and calls God "some guy who was conceived by a whore, outside of marriage, and whom has been the very reason for the most horrendous abuses and human rights violations in the history of the human race."
It went on to say that if he met God, he would have sex with him, but used an obscenity to state that
Trinity Western, which plans to open a law school in the fall of 2016, requires students to sign a so-called community covenant that forbids sex outside of marriage, defined as between a man and a woman.
The Federation of Law Societies of Canada and the Law Society of B.C.'s benchers have already voted to accept graduates of Trinity, which has also been accredited by the province's Advanced Education Ministry.
However, lawyers from around the province will soon be voting in a referendum on the policy after governors of the Law Society of B.C. accredited the new law school, triggering a non-binding vote in June, when B.C. lawyers called on the governors to reject accreditation.
In an email response to the CBC, Amundsen said Paquette's job application was rejected because she did not meet the minimum requirements of the position and that "any further discussion after that, including the fact that we strongly disagree with the position that gay people should not be allowed to marry or even engage in sexual relationships, would have been a mere expression of opinion."
In another letter to Paquette signed by Christopher Fragassi-Bjornsen and Dwayne Kenwood-Bjornsen, who identify themselves as chairmen of Norskk Vikingar Corp., Trinity Western University is accused of discriminating against homosexuals.
"In contrast, we believe that a man ending up with another man is probably the best thing that could happen to him. But we do not force these views onto other people, and we are completely fine if a guy decides to go the emasculation route by marrying a B.C. woman. Live and let live."
Paquette's lawyer, Geoffrey Trotter, said his client is seeking an order from the B.C. Human Rights Tribunal that Amaruk stop discriminatory practices, as well as provide compensation for lost wages and injury to feelings and self-respect.
Paquette, who plans to work at Sun Peaks Resort this winter, said the human rights complaint is intended to ensure others don't face the same discrimination for their religious beliefs. (Kamloops This Week)