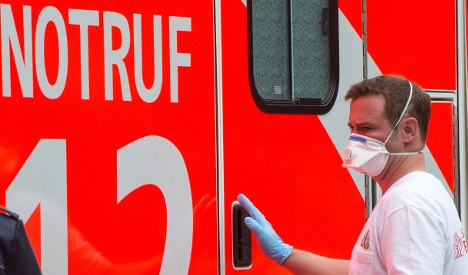 First it was the African American passenger on a plane who joked about having the disease. And now, Berlin bar was sealed off after a man called emergency services to say he had Ebola.
The incident happened on Sunday and firefighters and police were called for what turned out to be a prank.
The Gabiko pub on Paulsborner Strabe in Wilmersdorf in West Berlin was subsequently sealed off by 20 firefighters.
A fire service spokeswoman was reported to have told the paper that they received a call at 5.20p.m. that one of the bar's customers was suffering from Ebola-like symptoms.
When they arrived the man was no longer in the pub and they found him at home and took him to hospital.
"He wasn't ill and he hadn't been away on holiday," the fire service said.
The fire service said it was the first Ebola prank they had received in Berlin.
Police will now decide whether to charge the prank caller with wasting time and make them pay the costs for the call-out.
Meanwhile, the German Health Ministry said on Tuesday that 50 beds were ready to be used for treatment of Ebola patients.
A statement from the Health Ministry said the country was prepared to respond to any outbreak.
However, there are no plans currently to admit more infected patients from West Africa.
Germany had treated three Ebola patients in Hamburg, Frankfurt and Leipzig, the statement said.
The patient in Hamburg has recovered, while the two in Frankfurt and Leipzig are being treated, it added.
"Germany's network of treatment centres which specialise in highly contagious diseases have a good international reputation.
"These cases are drilled regularly," it said.
The World Health Organisation (WHO) has put the death toll from Ebola at over 4000 from no fewer than 8,000 cases in the outbreak this year.
Liberia, Guinea and Sierra Leone are the worst-affected countries.
Photo Credit: DPA/The Local