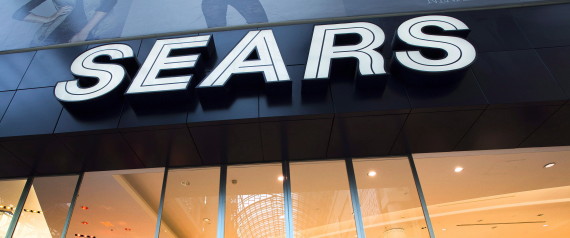 David Friend
- Sears Canada Inc. racked up another quarterly loss, more than doubling its loss a year ago, as the department store continued to face challenges in the effort to turnaround its business.
After widespread job cuts and numerous store closures, the retailer posted a $118.7-million net loss as both revenue and the industry barometer of same-store sales fell.
The loss amounted to $1.16 per share for the 13 weeks ended Nov. 1, compared to a loss of $48.8 million or 48 cents per share in the comparable period last year.
Sears Canada's revenue for the quarter dropped 15 per cent to $834.5 million, from $982.3 million a year earlier, partly as a result of store closures. Sales at locations open for at least a year fell 9.5 per cent.
The lumbering effort to improve Sears Canada's books has been playing out for several years, under numerous leaders, with little improvement.
It was the first quarterly financial report since Ronald Boire stepped in as acting chief executive last month, replacing Douglas Campbell who left the role and returned to the United States for what the company said were "personal family issues."
Boire said the results were disappointing, but that Sears Canada's management is focused on building its relationship with consumers by providing "great fashionable product made of high quality at affordable prices."
"The company has done well at managing expenses year to date and maintaining a strong balance sheet, and we are now working at growing our top line to have our sales match the high level of loyalty and support that Canadians have for the Sears brand," Boire said in a statement.
One positive note was that costs related to its multi-year "transformation" effort were lower, coming in at $4 million versus $20.2 million in the 2013 third quarter.
Sears Canada announced earlier this year that it would cut 2,200 jobs on top of thousands more it eliminated last year. The company also sold leases in some of its highest profile locations, including the Toronto Eaton Centre, as part of a move to reduce costs.
On Monday, the company said it will end a credit-card issuing partnership with U.S. bank JPMorgan Chase when the current 10-year agreement expires next November.
Sears Canada sold its credit and financial services business to JPMorgan Chase in 2005 for about $2.2 billion. The agreement came with a "long-term marketing and servicing alliance'' between the two companies. Under that agreement, JPMorgan Chase will remain the service provider for the Sears Card and Sears Mastercard until Nov. 15, 2015.
Under certain circumstances, the U.S.-based bank could pay Sears Canada up to $174 million as part of the windup.
Boire arrives from parent company Sears Holdings Corp., as the Canadian operation focuses energy on locations outside of big cities, in hopes it can lure customers away from Walmart and Target.
Before joining Sears Holdings, where Boire was chief merchandising officer and president of the Sears and Kmart Formats, he also held various retail leadership roles, including as president and CEO of retailer Brookstone Inc. and Toys R Us where he was president of the North American division.
Boire said last week in an interview with The Canadian Press that he hopes to chart a recovery for the Canadian department store chain, including scaling back on products that don't sell like they used to.
Shares of the company pulled back 2.5 per cent, or 27 cents, to $10.72 on Tuesday morning at the Toronto Stock Exchange, which extended a decline of more than 35 per cent from the same time last year.
A majority of Sears Canada shares are directly or indirectly controlled by Edward Lampert. Last week, Lampert and ESL Partners LP announced they, and certain affiliated entities, owned 49.5 per cent of the Canadian company's outstanding shares. Indirectly, Lampert also controls Sears Holdings Corp., which has reduced its share of Sears Canada to about 17 per cent.