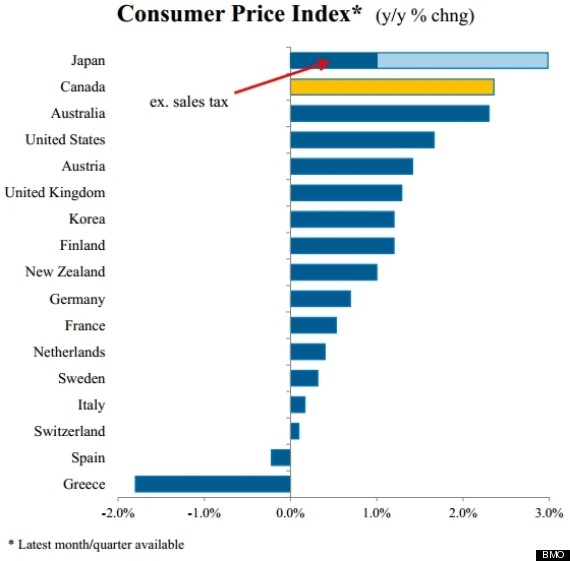 Daniel Tencer | Huff
Outside of Japan, which has seen prices spike due to a tax hike, Canada has the highest inflation rate among major industrialized nations.
That's according to an analysis from Bank of Montreal chief economist Doug Porter, who took last Friday's surprisingly strong inflation numbers from StatsCan and compared them to inflation rates around the globe.
Stripping away Japan's one-time price hike, "Canada rules the roost" when it comes to price increases, Porter concluded.
StatsCan reported on Friday that Canada's headline inflation rate rose to 2.4 per cent in October, with natural gas (up 20.1 per cent), meat (up 12.4 per cent) and cigarettes (up 11.5 per cent) leading the way. Not even gas prices at multi-year lows were enough to offset the upward price pressures.
"This is quite the turnabout from last year, when Canadian inflation averaged just 0.9 per cent, one of the lowest in the world at that time," BMO's Porter notes.
"Recall that [Bank of Canada] Governor [Stephen] Poloz indicated at the start of 2014 that his biggest concern was too-low inflation."
Thanks to this strength in price hikes, Porter says the odds are now better that an interest rate hike could happen sooner than October, 2015, which is when most economists expect the Bank of Canada to start raising interest rates.
That could have a significant impact on Canadian borrowers, who are dealing with near-record high levels of debt. It could also impact the auto market, as Canada has seen an explosion of long-term car loans in recent years.
In the face of all this, the Bank of Canada has been looking for new reasons not to raise rates. The bank continues to worry that overall we are in a low-inflation environment, one where deflation is a real risk.
That's certainly the case in some Eurozone countries (see chart above), and deflation fears also stalk China's economy these days. Economists consider deflation to be a worse problem than inflation, because consumers have no incentive to buy if they know prices will be lower later.
The Bank of Canada has recently mulled raising its inflation target, which is currently at 2 per cent. Raising the target would mean the bank would wait longer to raise rates, perhaps providing some relief to indebted consumers.