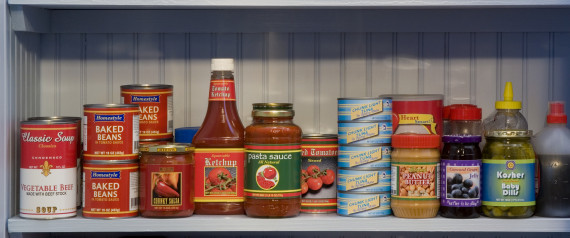 14,178,252 visits will be made to Canadian food banks this year | Don Farrall via Getty Images
More people across the country are using food banks compared to last year, and according to a recent report, over 14 million visits will be made to Canadian food banks in 2014 alone.
The annual HungerCounts report released by Food Bank Canada on Tuesday, revealed 841,191 people used a food bank in March — an overall 1 per cent increase since 2013. Although the number may not seem that large upon first glance, the report found food bank use in six out of 10 provinces increased this year, and 37 per cent of those helped were children.
"The numbers continue to remain as they are and as more people come [to food banks] today, we were hoping to see the numbers fall," says Katharine Schmidt, executive director of Food Banks Canada.
Although many people may have considered the 2008 recession the low point for those in need, in fact, the number of people using food banks have kept increasing — in 2012, 872,379 went to a food bank in Canada, the highest number on record.
Another surprise this year was the use of food banks by single adults in Canada, Schmidt says. Food bank use by these individuals, who don't have a spouse or children, has doubled since 2001 from 29 per cent to 43 per cent this year.
She adds besides low incomes, many of these individuals are also dealing with long-term physical and mental health issues, and do not receive the amount of support they need, which could explain why they turn to food banks.
Going forward, the report has also outlined recommendations for policy makers and governments on how to make these numbers decrease. Affordable housing, investment in children's well-being and training Canadians to attain well-paying jobs are all top priorities.
But Schmidt says the easiest thing Canadians can do is to donate food themselves. Earlier this year, an Ottawa food bank was criticized for turning away Kraft Dinner, and Schmidt says, if you are planning to donate food, foods that you like to eat on a weekly basis — canned meats and fish, bread, and canned fruits and vegetables — are the best options for food bank users, too.
How many people used food banks in the month of March? Below we've broken down the numbers by province and the percentage of users who were children.