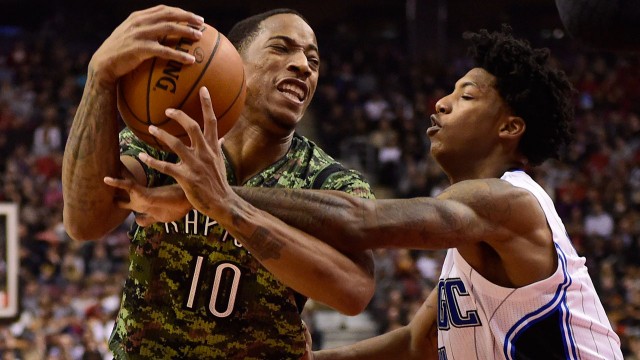 Canadian Press
Having just given up a three-pointer and trailing by 11 points late in the first half Tuesday, Toronto Raptors coach Dwane Casey called a timeout. Kyle Lowry took the ball and spiked it hard to the ground in frustration.
Lowry drew on that frustration to lift the Raptors to a 104-100 victory over the Orlando Magic, extending their Eastern Conference-leading record to 7-1. They're a perfect 5-0 at the Air Canada Centre.
On a night that saw Toronto trail almost the entire game, Lowry grabbed two huge rebounds in the final 90 seconds, then drew a foul and drained a pair of free throws to give the Raptors a three-point lead in the victory.
Lowry finished with 19 points while Terrence Ross poured in 17 more. DeMar DeRozan added 16, Lou Williams had 14, and Amir Johnson and Patrick Patterson chipped in with 12 points apiece.
Evan Fournier led the Magic (2-6) with 24 points, while Tobias Harris added 23, and Channing Frye finished with 19.
The Raptors, wearing their camouflage uniforms in honour of Remembrance Day, were coming off two solid defensive efforts in wins over Washington and Philadelphia.
But their poor defensive habits were back with a vengeance as the Raptors fell behind by double digits early to the Magic, and trailed almost the entire game.
Trailing Orlando 83-72 to begin the fourth quarter, the Raptors finally showed some life. Williams scored eight points in less than four minutes and then Patterson's three with 6:36 to go put the Raptors up 90-88 (Toronto's first lead since 14-13).
A basket by Harris pulled the Magic to within a point with 55 seconds to play, but a free throw by Patterson, followed by a miss by Harris, clinched Toronto's victory.
The Magic shot 48 per cent on the night to Toronto's 46. Toronto had a narrow 40-39 advantage on the boards.
The Raptors' poor start on the defensive end showed in the Magic's 58 per cent shooting in the first quarter. Frye hit all three of his three-point attempts in the frame, and Orlando took a 32-24 advantage into the second.
A three by Fournier put the Magic up 60-49 with a minute to go in the second half, Orlando's biggest lead of the game to that point. The visitors went into the dressing room at halftime up 60-51.
The Raptors pulled to within seven points midway through the third, but two possessions later the Magic was back up by 11, and took an 83-72 lead into the fourth.
The Raptors host Chicago on Thursday and Utah on Saturday.