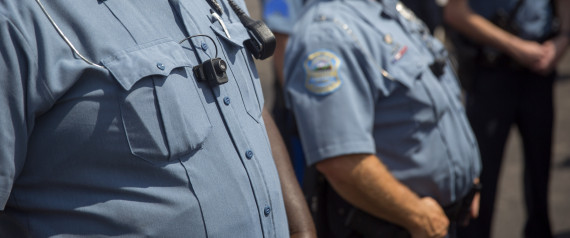 FERGUSON, MO - AUGUST 30: Members of the Ferguson Police department wear body cameras during a rally August 30, 2014 in Ferguson, Missouri. Michael Brown, an 18-year-old unarmed teenager, was shot and killed by Ferguson Police Officer Darren Wilson on August 9. His death caused several days of violent protests along with rioting and looting in Ferguson. (Photo by Aaron P. Bernstein/Getty Images) | Aaron P. Bernstein via Getty Images
A Ferguson Police officer was shot
Saturday evening in North St. Louis County, a spokesman for the St. Louis County Police said.
The
officer was shot in the arm
, KMOV reported. Officials said the
wounds were non-life threatening
.
Tim Zoll of the Ferguson Police Department told KSDK News
an
officer was on patrol near a community center
when he saw someone run from the back of the building. The
officer chased after the suspect
, who then turned and shot the pursuing officer. The suspect fled the scene.
A
suspect had not been found
.
Police moved on the location of West Florissant and Stein
and
closed area roads
to conduct a search.
Civilians took to the streets after news broke, but were asked by police to leave. Missouri State Highway Patrol Capt. Ron Johnson refuted claims that police had shot and killed someone.
HuffPost