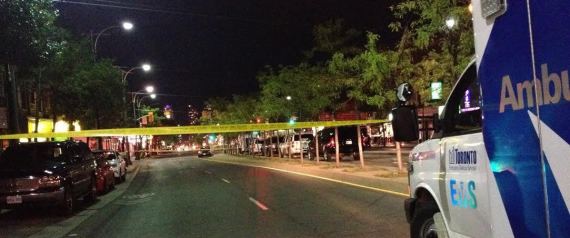 Toronto police shut down a section of Spadina Ave. over reports of an armed man. (Dominique St-Aubin/HuffPost Canada)
Reports of an armed man prompted police to shut down a stretch of a busy downtown Toronto corridor for several hours Tuesday evening.
As many as seven people were hauled away by Toronto police, according to CBC News. Traffic on Spadina Avenue between College Street and Dundas Street has re-opened in both directions after being closed earlier.
Toronto police's Emergency Task Force were called to the scene over a report from a "very credible witness" of a man spotted with a rifle in the area, according to CP24.
Nearby resident Stephanie Broschart tweeted a photo of a SWAT team member stationed on her balcony.
Police have yet to confirm several reports of a gunman spotted on a roof. Details of the SWAT operation also have not been released.