It seems like
Chris Brown
is back to his cool, calm and lovable self and is moving on from his bad boy image.
For his first post-prison interview with Billboard magazine, he is talking about all the motions of being Chris Brown including his time in prison, his life now and relationship with Rihanna.
Chris is also letting fans know to look beyond club bangers and songs that make you want to get marry
Usher
for his anticipated upcoming album –
X
. "
I think for this album I just want the fans to see the growth, coming of age, becoming a man, but also still being able to move with the culture, ya know influence the culture
" he said. "
With this album I want to just project that and have them see what I can bring to the table as an artist and entertainer
."
See more excerpts from his interview;
On his life so farNo one is harder on me than me. No one can please everyone. No one can live in the past and expect to grow. I have been moving forward and hope that I am not defined by just a few moments in my life but all of the moments that will make up my life.
On his routine & time in Prison
A guard wakes you up; you eat. You stay in your cell most of the time, basically 24 hours a day. Maybe on Mondays you go to the roof inside of a cage and have a phone call. It's isolation. You have time to focus on what matters, on what to do and what not to do.
On what he's learned
My maturity level has risen as far as my realizing what's important. Realizing that I'm human like everyone else. At the end of the day, it's just a humbling experience. You're more appreciative of everything else that's on the outside. A burger tastes 1,000 times better when you're out [laughs]. I'm just more appreciative of the things I'm blessed with and the things I do: music, being able to take care of my family, being able to see my friends and family.
On if he sees a time when his relation to Rihanna won't be a topic
When we're not relevant anymore, that might be the case. As long as you're doing something good, people will always bring up old stuff or negative stuff because they don't want you to surpass a certain level or elevate. But as long as you have your head on straight, it shouldn't matter what people want to say.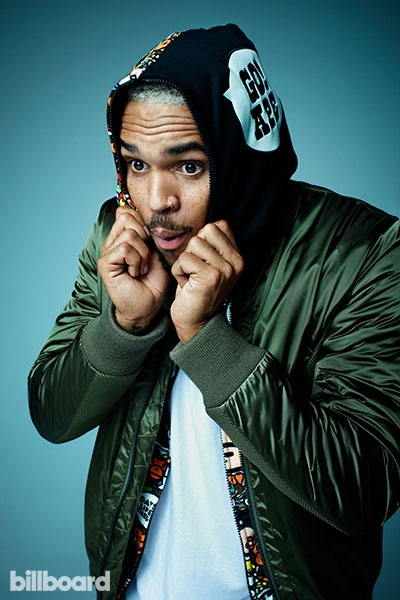 On how he kept himself motivated in Prison[I had to feel] like this happened for a reason. There was a purpose. Maybe I was out of control too much. Or I needed something to humble me to the point where I get it. At that point, I didn't look at it as trying to get out of the situation but learn from it.

On being a role model
I've gone through more stuff than most 35- or 40-year-olds, and I've dealt with it. As far as becoming a man in the public eye, continuing to persevere and stay positive throughout trials and tribulations…that's the only thing I'd say contributes to my being a role model. If kids look up to me, that's amazing; great. As far as me as an artist and a person, I always want to exude positivity. But as far as saying, 'Hey, I'm a role model, I'm the best of this,' I take the humble approach and let people make that decision for themselves.