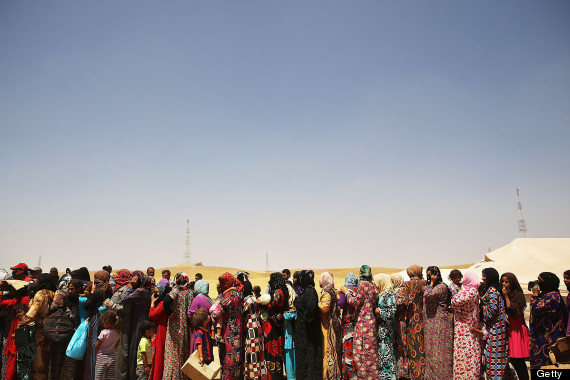 British female jihadists are running 'brothels' where thousands of Iraqi women are being forced to work after being captured by Islamic State militants, it has been reported.
Shocking new details have emerged after it was revealed young British girls are behind an ultra-religious all female militia in Raqqa that is brutally punishing "un-Islamic behaviour" in the area, according to the Sunday Telegraph.
Sources now claim that the women, who travelled from the UK to marry militant fighters, have set up brothels for the IS fighters to use.
A source told the Mirror: "These women are using barbaric interpretations of the Islamic faith to justify their actions.
"They believe the militants can use these women as they please as they are non-Muslims. It is the British women who have risen to the top of the Islamic State's sharia police and now they are in charge of this operation.
The terrorist group, formally known as ISIS, are killing and enslaving members of Iraq's ancient religious minorities, including Assyrian Christians and the Yazidis.
Last month two UN officials issued a joint statement on the "barbaric acts" of sexual violence committed by ISIS fighters.
"We condemn, in the strongest terms, the explicit targeting of women and children and the barbaric acts the 'Islamic State of Iraq and the Levant' has perpetrated on minorities in areas under its control, and we remind all armed groups that acts of sexual violence are grave human rights violations that can be considered as war crimes and crimes against humanity," Nickolay Mladenov, special representative of the UN secretary-general for Iraq and Zainab Hawa Bangura, special representative of the secretary-general on sexual violence in conflict, said.
The statement, reported by Newsweek, cited evidence of "savage rapes" being used as weapons of war against women and teenage boys and girls belonging to the Yazidi, Christian, Turkomen and Shabak minority groups in Iraq.
Academic and Middle East expert Haleh Esfandiari has said ISIS allow their followers to rape captured girls and women as a "reward".
Read full on
huffuk