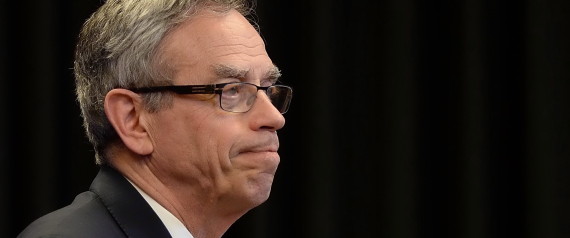 Finance Minister Joe Oliver says while some European countries need more stimulus spending, that's not what he's planning for Canada. | CP
Different economic situations require different approaches to meeting the G20's economic targets, Canada's finance minister said Sunday as he urged Europeans to follow Canada's recession-busting model.
Though finance chiefs from the 20 largest economies said they will focus on infrastructure investment to help reach the goal of boosting world GDP by more than $2 trillion over the next five years, that's not the necessarily the direction Canada is headed, Joe Oliver said.
"The type of action that we can take is different than the type of action that some, but not all, European countries have to take," Oliver told reporters in a conference call from Sydney where he was leaving the G20 finance ministers' latest talks.
Oliver said the government's stimulus program from 2008 achieved its desired goals.
Now, Oliver said, economic growth in Canada will come from increased labour mobility, lower taxes, trade and he hinted that more will be revealed in the next federal budget.
By contrast, some European economies are still fighting an uphill battle, Oliver said.
"We need to provide flexibility for some countries to undertake the actions and some structural changes as well to get the growth going," he said.
"It should be done in the same way - a timely, targeted program which is temporary and where a credible plan to achieve a fiscal balance is set out and pursued when the need for a more stimulative program becomes less important."
Australian Treasurer Joe Hockey, who hosted the Group of 20 meeting in the northern Australian city of Cairns, said the G20 finance ministers and central bankers had agreed to more than 900 policy initiatives to meet the global GDP goal they set in February during a gathering in Sydney.
The G20, which represents about 85 per cent of the global economy, said an analysis of those initiatives show they should boost the combined gross domestic product of member countries by 1.8 per cent above levels expected for the next five years - just short of the group's target of 2 per cent.
Hockey said the group had agreed to shift its focus from government-led growth to private sector-led growth, particularly from additional investment in infrastructure.
In a communique issued after the meeting, the G20 outlined a Global Infrastructure Initiative, which would include the development of a database to help match potential investors with projects.
In July, the International Monetary Fund downgraded its economic forecast, estimating the world economy would expand 3.4 per cent this year, rather than the 3.7 per cent it had previously predicted, due to weaker growth in the U.S., Russia and developing economies.
The G20 represents the world's major industrialized and developing countries. Its members are Argentina, Australia, Brazil, Britain, Canada, China, France, Germany, India, Indonesia, Italy, Japan, Mexico, South Korea, Russia, Saudi Arabia, South Africa, Turkey, the U.S. and the European Union.
Canadian Press