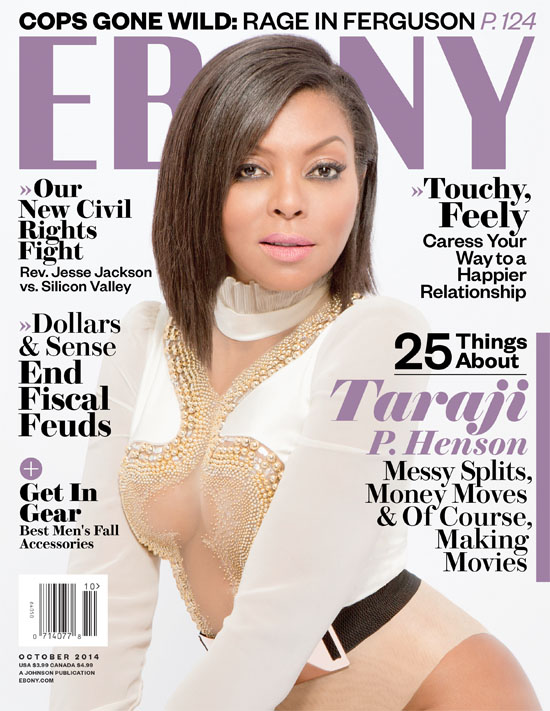 The actress, producer and single mum is rocking a sexy bejeweled one-piece on the cover while sharing 25 things we don't know about her. She also talks about the struggles of being an actress in Hollywood today.
She will be celebrating her 44th birthday on Thursday 11th September 2014, a day before she premieres her latest movie with co-star, Idris Elba – "No Good Deed"
.
Taraji speaks to the mag on how she struggles with accessing the power of influence in the industry- "I'm still treated like I'm on the D-list,". "I'm still being considered with actresses who haven't done half the stuff I've achieved. When people tell me no, I get hyped," she shares. "Because when I prove that I can and will, I love watching people eat crow."
She also shares some secrets with the mag as they find out 25 things we don't know about Taraji.
On what body part she would like to fix in 5 years
My stomach. I get it from my mom, who had to get a tummy tuck because she didn't exercise. I try to work out at least five days a week. But if it reaches the point where I am not satisfied, I'm just going to be like, "Can you suck this out of me? Thanks!"
On what her No.1 guilty pleasure is
Watching ratchet, ratchet television—like any of the Real Housewives shows, especially when they were fighting and a girl got her weave snatched out—that is my guilty pleasure. Sometimes, I'll just sit in front of the TV, screaming, "Ratchet, ratchet, ratchet! Where's the ratchet TV?"