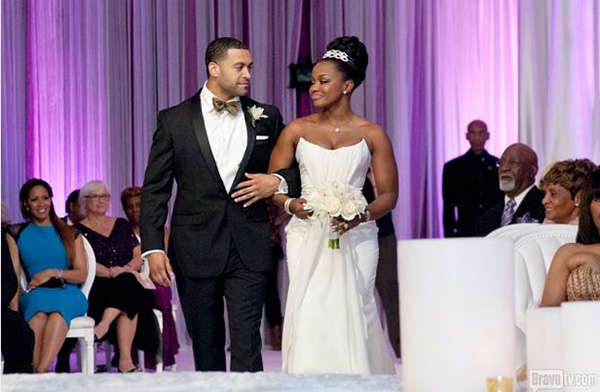 What Would You Do?
Real Housewives of Atlanta
Star Phaedra Parks reportedly "abandons" husband Apollo Nida as he begins 8-Year Jail Term.
The Marriage
Lawyer Phaedra Parks married Apollo Nida in 2009.
He was an Ex-Con
Prior to their wedding, Apollo had served a 6 year jail term in a state prison for auto loan fraud. If you watch the show, you would know that when questioned by friends on why she married an ex-con, Phaedra defended her husband by saying he was a changed man and he only committed white collar crimes.
Back to the Criminal Life
Fast forward to January 2014, despite his reality TV fame, wife and 2 children, Apollo fell into a life of crime once again. He was charged with bank fraud and identity theft. According to a written affidavit viewed by Radar Online, "
Nida created fake companies, enabling him to access databases to find individuals to rip off. He opened fake bank accounts under those real names and funneled stolen U.S. Treasury checks and auto loan proceeds into those accounts. He also allegedly opened a fake auto dealership and applied for auto loans in the names of stolen identities.
"
Off to Jail
Now he has been sentenced to 8 years in jail and began his stint
She "abandoned" Him
Even since his sentencing, Apollo has been "bitter" about his wife not supporting him. According to reports, Phaedra and the children will not be visiting him in jail and the marriage is effectively over for now.
In a recent interview with Atlanta's B100 radio station, when asked if his marriage would last through his time in prison, Apollo said, "I doubt it. I mean, my wife didn't even f—king show up for my sentencing. I'm still salty about that." Just yesterday, he reported to jail late because he reportedly visited their home and had a shouting match with his estranged wife.
On her own part, Phaedra had this to say to US Weekly via her rep, "
Phaedra is now putting all of her energy into ensuring the well-being of her two children and making decisions that are in their best interests. This situation has put a tremendous strain on Phaedra and her family, and she is working hard to bring back a sense of normalcy to everyone's lives.
"