Forty-seven opponents have attempted to fell
Floyd Mayweather
, and all have failed. Mayweather remains unbeaten at 47-0 after winning a unanimous decision over Marcos
Maidana
on Saturday night at the MGM Grand Garden Arena in
Las
Vegas.
The judges scored it 115-112, 116-111 and 116-111, per Showtime Sports: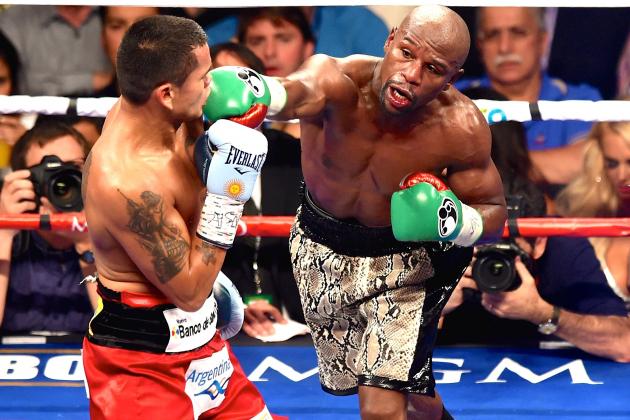 Despite arguably winning the rematch more convincingly, Mayweather felt that his performance had dropped from the first bout
The MGM Grand Garden Arena has become a second home to Mayweather. Coming into the fight, he was 12-0 in the venue, per ESPN Stats and Info. That figure now moves to 13-0
Early on, Mayweather's strategy was clear for all to see. In the first fight, he looked to have underestimated
Maidana
's ability and punching power. That bout was closer than almost any Mayweather fight of the last decade or so.
Right from the start, Money wanted to ensure that wouldn't happen again. Mayweather was a hive of activity, constantly on the move. He never remained on the ropes long enough for
Maidana
to trap him in a corner.
The Argentine star attempted to land a couple of combinations, but he ended up snatching at ghosts with as quick as Mayweather was moving in the ring.
Maidana
did come on strong to finish the third round, landing a nice blow at the bell. As ESPN's Stephen A. Smith tweeted, it was the first time in the fight that Mayweather displayed any sort of vulnerability.
Maidana
continued to go on the offensive in the fourth. The round played out very similarly to their first fight, with
Maidana
's flurry of punches giving Mayweather trouble. The champion regained his bearings, though, in the eyes of ESPN's Robert Flores.